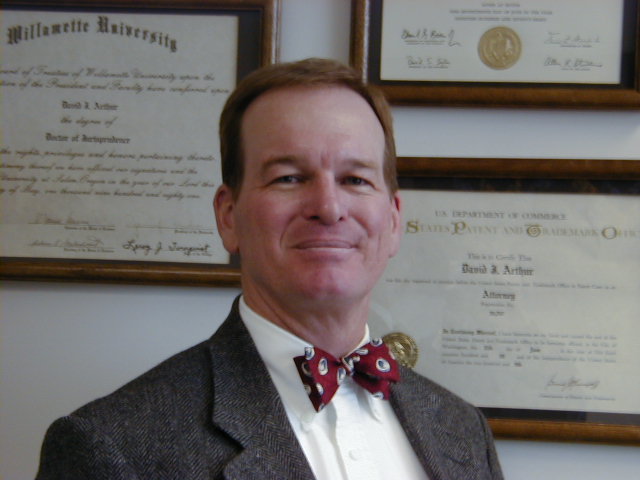 David J. Arthur is a registered patent attorney with almost twenty-five years' experience matching intellectual property to business goals. Mr. Arthur works directly with his clients to address how intellectual property law relates to their business goals. Mr. Arthur has broad experience relating intellectual property legal issues to business goals.
Clients appreciate Mr. Arthur's ability to see the client's ultimate business objectives, and tailor legal strategies and tactics always with those objectives in mind.
Mr. Arthur now directs his practice of intellectual property law to exclusively represent one client, Xerox Corporation. Therefore, Mr. Arthur is not accepting any new clients at this time.
Each client has unique goals. Those unique goals create unique issues. Mr. Arthur is well versed in identifying and analyzing the issues pertinent to protecting, exploiting, and transferring technologies. He applies his experience to helping his clients avoid or minimize legal problems while meeting their business objectives.
Businesses can use intellectual property in many ways to meet different business goals. By working closely with business executives, Mr. Arthur suggests strategies and tactics for using intellectual property in creative and effective ways.
For those clients specifically interested in patent protection for their innovative technology, Mr. Arthur is experienced in preparing and prosecuting patent applications in electrical, electronic, and mechanical technologies. Mr. Arthur has worked with a variety of electrical and electronics technologies, including modems, digital wireless communications devices, infrared sensors and their associated circuitry and structures, and digital signal processors, both hardware and software implemented. Mr. Arthur also has experience with various mechanical technologies.
Mr. Arthur served on the Board of Directors of the Orange County Patent Law Association from 1991 through 1997, serving as its President in 1996. Mr. Arthur is also a member of the California State Bar Association (Intellectual Property Section), the American Bar Association (Section of Intellectual Property Law), the American Intellectual Property Law Association, the Licensing Executives Society, and the Orange County Bar Association (Business and Corporate Law Section).
Mr. Arthur has served on a panel of attorneys who answer questions about the law at the lawyers.com site maintained by Martindale-Hubbell, the leading attorney directory in the United States.

REGISTERED PATENT ATTORNEY
California State Bar No. 100159
United States Patent and Trademark Office Registration No. 30,707

PROFESSIONAL LEADERSHIP
President, Orange County Patent Law Association (1996)
Board of Directors, Orange County Patent Law Association (1990 - 1997)
Board of Directors, Orange County Barristers (1986 - 1987; 1989 - 1991)
Board, Engineering Alumni Society, UCI School of Engineering (1998 ­ present)

PROFESSIONAL EXPERIENCE
Licensed California Attorney Since 1981
Licensed Patent Attorney Since 1982
Xerox Corporation, Patent Counsel, 2000 - Present
David J. Arthur, Attorney-at-Law, 1997 - 2000
Rockwell International Corporation, Intellectual Property Counsel, 1985 - 1997
Knobbe, Martens, Olson & Bear, Associate Attorney, 1981 - 1985

EDUCATION
Juris Doctor, Willamette University (1981)

Order of the Barristers
Outstanding Contribution to Moot Court Board

Bachelor of Science (Electrical Engineering), University of California, Irvine (1978)

| | |
| --- | --- |
| | Eta Kappa Nu (Electrical Engineering Honor Society) |


COURT ADMISSIONS
Supreme Court of California
United States District Court, Central District of California
United States Court of Appeal, Ninth Circuit

PROFESSIONAL ASSOCIATIONS
Rochester (N.Y.) Intellectual Property Law Association

American Bar Association

| | |
| --- | --- |
| | Section of Intellectual Property Law |

California State Bar

| | |
| --- | --- |
| | Intellectual Property Section |

American Intellectual Property Law Association


COMMUNITY LEADERSHIP
Elder, Webster (NY) Presbyterian Church (2002 - 2005)

Elder, Irvine (CA) Presbyterian Church (1994 - 1996)

darthur@ArthurLaw.com

Main | Profile | News | Resources | Solutions | Contact Us | Friends & Family | Disclaimer