Winter Arrives!
We got a nice big snowstorm December 19 - 20 to usher in winter. We got about 18 inches over about 36 hours. But, people in the Rochester region know how to deal with it, so apart from some messy traffic on Friday, we now just have piles of snow around.
For more details, see the Winter 2008 - 09 page.
Poor Tabby got dumped in the snowbank, and had to forge her way back into the house.
Steve:
Electrical Engineering
Air Force Reserve Officer Training Corps (AFROTC)
Cars
Steve is in his third year of studies in Electrical Engineering at Clarkson University in Potsdam, New York.
Steve is on a full scholarship at Clarkson through the Air Force Reserve Officer Training Corps (AFROTC). In July Steve attended Air Force ROTC Summer Training is at Maxwell Air Force Base in Montgomery, Alabama.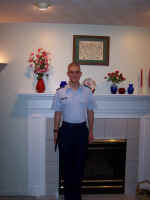 Now, doesn't July in Alabama sound like for the guy who chose to go to school in Potsdam, NY because the temperature in Potsdam stays below freezing for most of the winter?
After graduation from Clarkson, he expects to be commissioned as a Second Lieutenant in the Air Force, and serve at least four years of active duty.
Steve also enjoys keeping our elderly Subaru Outback wagon going amidst the cold and ice of Potsdam. He is having to pick up his car know-how on his own, since Dad David has none.
Steve and David did get to participate together in a BMW Car Club Ultimate Driving School at the world-famous Watkins Glen International race track. We were assigned to different driver groups, so that we could both use the MINI Cooper S (see Steve's Page and David's Page).
For details, click on Steve's Page.