E-mail me at stevearthur[at]frontiernet.net.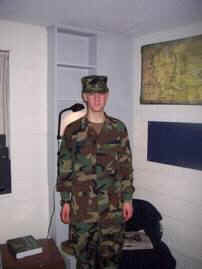 From June 27 to July 25, Steve received summer training at Maxwell Air Force Base in Montgomery, Alabama. July in Alabama would not normally be the first choice of a student who chose to go to school in Potsdam, NY because the temperature in Potsdam stays below freezing for most of the winter.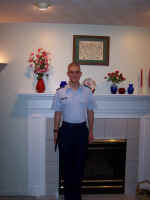 Click photo to see full size.
The hot, humid weather notwithstanding, Steve appreciated the opportunity to learn, to train, and to get to know experienced Air Force officers. There was another AFROTC cadet on his flight from Rochester.
Earlier in the summer, Steve took a couple of classes at the community college near Rochester, NY, to ease his course load for the fall semester at Clarkson.
Steve is now in his third year of studies in Electrical Engineering at Clarkson University in Potsdam, New York.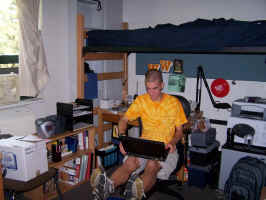 Steve has also been working on his driving.
In May 2008 he spent two days on world famous Watkins Glen International Race Track in the BMW Car Club Driving School. This year, dad David is in a different skill group than Steve, so David and Steve were on the track at different times, and were both able to drive the MINI.
Click each photo to enlarge it.
Steve heads onto and down the front straight. (We have to imagine the cheering fans in the stands!)
Left: Steve entering Turn 3 on the long climb to the back straight.
Right: Steve in the "Toe of the Boot" - the signature turn on the Watkins Glen track, and a real challenge for a low power front wheel drive car like the MINI, since it is a sharp, uphill turn.
For more on Driving School on the racetrack, see our 'dot mac' homepage
http://homepage.mac.com/davidjarthur/Cars/Personal22.html
For David's experience at the May 2008 school, see David's page.
In 2006, Steve attended "Autocross" instructional day put on by the Finger Lakes Region of the Sports Car Club of America.
Click on the photo for more information and some action photos.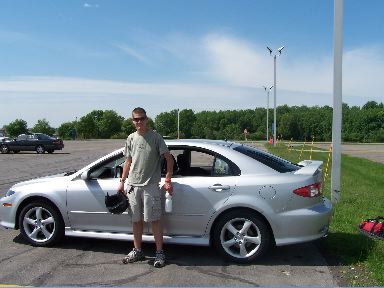 In 2007 he drove our recently acquired (but elderly) Subaru Outback wagon at some autocross events. (Who ever heard of autocrossing a WAGON?!) He learned a lot about the handling of the car before taking it to the snow and ice of Northern New York. Click photo for more!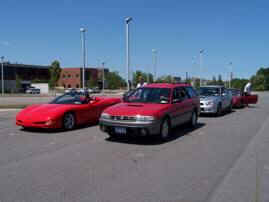 In 2006, Steve took part in a "High Performance Driving" class at the Mid-Ohio School, put on at the Mid-Ohio Sports Car Course. The classes here and through the BMW Car Club provide drivers young and old with important car handling lessons that translate well to everyday driving.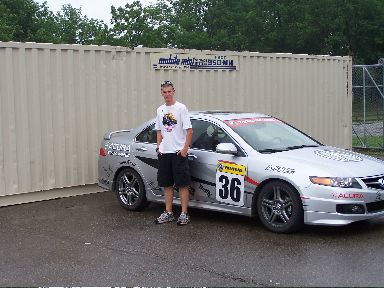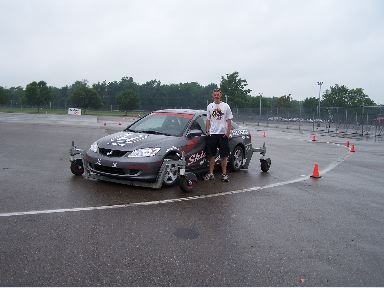 A unique feature of the school is the Skid Car, a Honda Civic equipped with outriggers that lift the car off of its tires to simulate driving in very slippery conditions, such as snow and ice. This car allows learning how to recover from a skid in a safe environment (rather than learning on the expressway in the middle of a snow storm!).
Steve does get to drive (sometimes) Dad's 2005 MINI Cooper S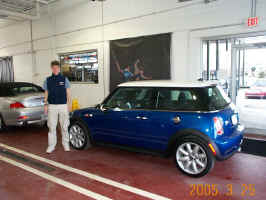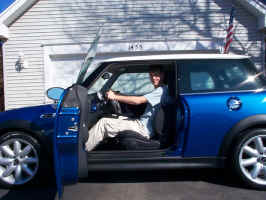 For more information on the MINI Cooper, go to Dad's page.